The Impact Of Custom Healthcare Software Solution As User Satisfying Solution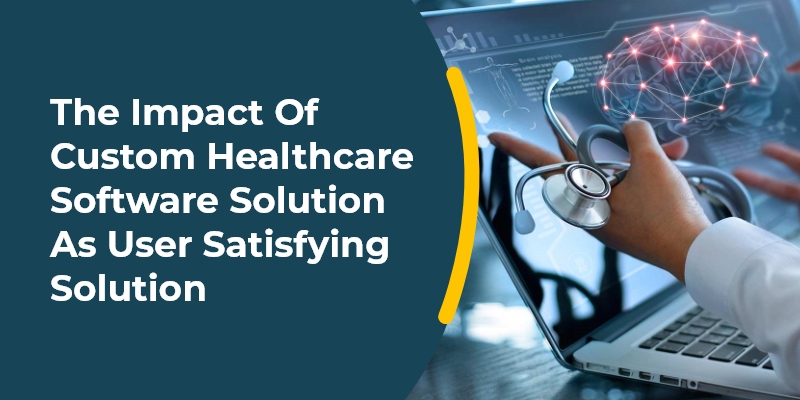 Why Choose Custom Healthcare Software Solution?
Custom Healthcare Software Solution is the bloodline of healthcare services. As part of the more extensive system, a comprehensive healthcare software solution can include various software solutions to help the healthcare team perform different functions and anticipate increasing the quality of the service by multiple folds.
The value of the worldwide healthcare market stood at a booming $8.45 trillion in 2018, with an annual growth rate of 7% since 2014. In the US alone, the market size is anticipated to increase by $800 billion by 2021 from a study conducted by the PolicyAdvice Statistics report.
Unlike other software solutions, which are not easy to modify, healthcare software offers flexibility and customization options to developers. Developers purposely make healthcare software to support additions, upgrades, and modifications in the future.
Custom Healthcare Software in Production
At the first stage of any custom healthcare software development project, the developer and the healthcare client need to determine the development method and the functional requirements. Even though this may sound a bit confusing for a start, it is essential to understand how crucial it is to take further steps depending on these decisions. Get in touch by completing this step with a professional business analyst who focuses on custom healthcare software development.
Simply put, to decide on the platform, define the target audience and analyze their platform preferences.
Healthcare Software Upside & Advantages
Healthcare software has become a part of our lives. We use it in many places, forms, and on many devices. Here is a brief overview of custom healthcare software development:
For Medical Devices
For Pharmaceutical Companies
For Administration
For Care-related
For Laboratories
Ease of Management
Custom Healthcare Software Development is built for startups, established product companies, hospitals, labs, etc. Often, it is easy to get lost in the concept of what is what, where it fits into, and how it works. Attending to patient's conditions, helping them maintain their health, and improving the quality of care is part of every healthcare organization's mission. From electronic health records (EHRs) to predictive analytics and capacity management, custom healthcare software helps healthcare providers deliver these goals more efficiently.
IoT-based patient care
IoT-based tracking enables physicians to observe the impact of a prescribed medication's dosage on a patient's condition. On the other hand, doctors/nurses can manage medication intake, e.g., how the symptoms change for their doctor's further analysis by using in-app reminders. The mobile app can be connected to smart devices for easier management of multiple medications.
Remote health monitoring
The best example of implying IoT in healthcare is that this use case is exceptionally viable for chronic disease management. Patients can use connected medical devices to allow doctors or nurses to check their vitals, Hgb level, blood pressure, glucose level, pulse rate, etc., through medical apps. Health professionals can record the data 24/7 and study app-generated reports. This information will provide insights into health trends. Patients who show signs of deteriorating health are scheduled for in-person visits.
Conclusion
If you build a new custom healthcare software, mobile healthcare app, or IoT/IoMT for your business. In that case, you need to understand the target audience to address the problem that people want or need to be solved.
Bottom line: don't build healthcare software for the sake of building it. Your software needs to establish the required connectivity to tackle the problem of getting healthcare to people. Make sure whatever you do has real-life applications and that your target users can profit from it.
Read our insightful eBook titled – 111 Tips For A Comprehensive Custom Healthcare Software Development. Get to know the in and out of custom healthcare software development.