A Guide To Developing Complete Custom Healthcare Software Solutions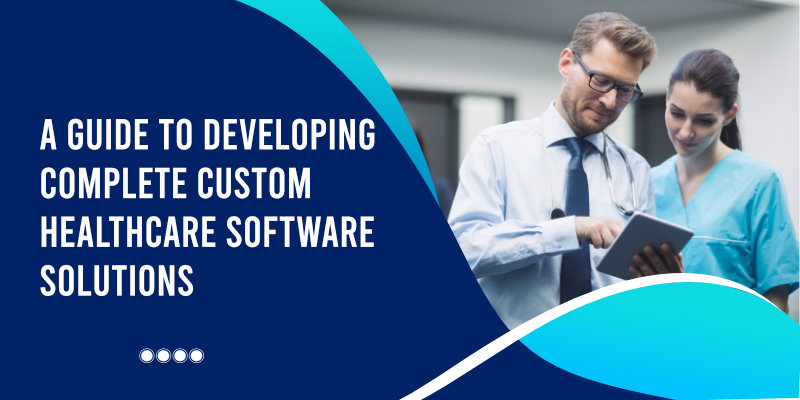 The latest technologies are revolutionizing the healthcare industry and supporting the providers to offer competent care. Healthcare providers and supporting organizations adopt new technologies to properly manage the workflows, automate internal processes, and innovate the treatment plans. By doing so, they are attaining excellent patient experience.
This blog brings you the conventional list of contemporary technologies relating to Custom Healthcare solutions and Healthcare software solutions and tips to integrate these trends into your medical entity.
Healthcare Software Development Typology
The categories of healthcare software solutions are continually growing, adding more technological trends in them. The medical tools actively used in medical organizations to automate internal operations and enhance the patient experience are listed below.
Medical Billing Software
When it comes to the hospital revenue life cycle, Medical billing software is the indispensable element. It operates and maintains all financial operations like payments for medical services and internal spendings. Besides that, it is used by healthcare providers to automate their manual billing tasks, such as verifying and connecting with patients' insurance companies to make payments precisely and quickly for all sides involved.
Electronic Health Records – EHR
The quintessential task of collecting and structuring patient data is taken care of by the EHR medical software solution. It eliminates maintaining of health records on papers and other sorts of healthcare documents. Electronic Health Records simplify data work and make it easy for everyone to access, update, send, and delete.
Hospital Management Software – HMS
Hospital management software brings together all the digital solutions and is termed the internal healthcare system. The integration is smooth and easy and supports all the medical entities such as EHR, inventory management, mHealth app, medical billing, etc. Telemedicine software proved one of the best healthcare software solutions as it helped with the quarantine limitations.
Telemedicine Software
Telemedicine apps are contributing wholly to the treatment approach. As a result, patients get doctor consultations, receive prescriptions, health indicators measured, and lab results from the comfort of their home. In simple terms, it is enabling healthcare treatment accessible and convenient for everyone. Furthermore, this landscape continually develops and adopts the latest tech trends to achieve Avant-garde medical services.
Health Tracking Apps
Everyone today thinks it is necessary to track their daily activities to discover how they reflect their health. Healthcare software solutions provide health tracking apps that capture details such as calories burnt, measures of water consumed, etc. Such custom healthcare software solutions are termed mobile healthcare applications and have become very crucial.
Such custom healthcare solutions work with medical wearables like rings, bracelets, band heads, etc., that scan your health indicators and send the data to the app and your doctor.
Custom Healthcare Software Trends – 2022
The Healthcare industry is likely to be flooded with innovative technologies in 2022. These technologies are expected to be integrated into healthcare software during the next several years. Here is the list of top tech trends that are set to send ripples across the healthcare landscape.
Augmented Reality AR / Virtual Reality VR
While the rest of the world is yet to embrace these technologies, AR and VR are extensively used in US healthcare. Many healthcare providers use these to conduct VR surgical training and elective surgeries. Further, the VR and AR technologies help study patients' mental health more satisfyingly to give them the most suitable and effective treatment.
IoT – Internet of Things
IoT – The Internet of Things is the latest technology actively implemented across all industries to intensify performance. Medical IoT qualitatively unites medical devices of remote patients, internal systems within healthcare organizations. Insurance companies are also benefited because it enables effortless and continuous health data exchange and usage.
AI – Artificial Intelligence
The AI – Artificial Intelligence technology enables a more profound analysis of patients' health conditions and data. It helps to conclude the correct diagnosis and correctly prescribe a suitable treatment. Artificial Intelligence helps to detect diseases before their appearance, exceptionally diverse infections like cancer.
Employee Wellness App
There is a dire need for medical workers to keep in touch and remain active on the work front. The employee wellness app helps track the wellness of medical employees too. It unites medical workers and provides them with a platform to chat, share their experiences and concerns, do activities like yoga or dancing, etc.
What HealthTechWiz Can Do For You
HealthTechWiz will effectively look at ways to optimize the internal workflows of your medical facility. In order to accomplish it, our experts will use the latest technologies and custom digital tools. Since digitalization is actively happening in the healthcare industry, our experts pick the best options to adjust to your specifics by offering niche solutions. Our most common software services are:
Custom healthcare software solutions – We can support your internal use requirements from medical billing software to hospital management software. The software will come packed with the right set of functionalities that are used to manage several processes like inventory, appointments, etc.
Healthcare Mobile Apps – Efficient healthcare mobile apps that can be used for transferring data from medical devices to hospitals. This will help physicians with remote health monitoring.
HIPAA Compliance – An all-in-one solution that supports compliance with the HIPAA Security Rule, HIPAA-beholden entities must have proper Physical, Administrative, and Technical safeguards to manage all internal and external processes in place to keep PHI and ePHI secure.
HealthTechWiz offers extensive domain expertise in building custom healthcare software solutions. It will provide top-notch all-in-one systems for medical organizations. Our healthcare development team is well informed with all requirements and official regulations associated with healthcare software.
Wrapping Up
By partnering with the HealthTechWiz outsourcing development team, you get access to top-notch software developers proficient in building custom healthcare software solutions. Our experts will understand your case in the first consultation and examine the requirements of your healthcare organization and the official healthcare regulations.