Essential Tips to Optimize Your Product Prototype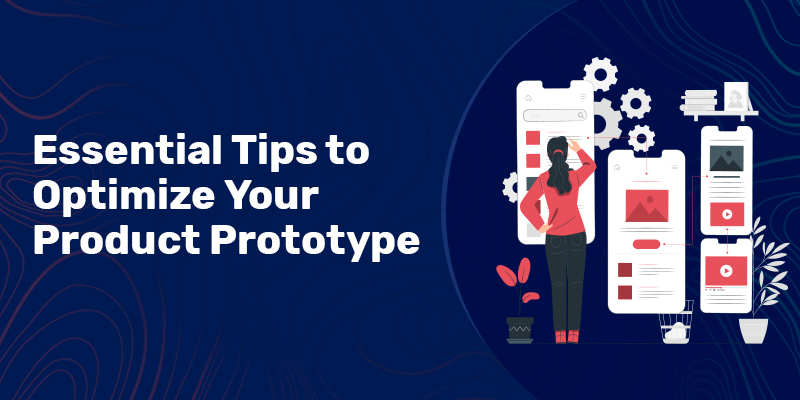 The healthcare industry is going through an unprecedented change in recent times. Numerous service providers approach us for ideas and solutions to cut down costs to handle financial pressure. Consequently, our experts start working on reevaluating their product lines and other essentials. In most cases, a few have felt the need to change how they do business and implement services – leading to transforming from in-person operations to digital.
Beginners in the healthcare space need to speed up everything as the competition is getting intense day after day.
Regardless of your situation or particular healthcare market, prototyping is an excellent way for teams to either redesign a product or build new products to validate and de-risk development decisions and gather customer feedback for iteration.
So, what is the route to a successful prototype?
The wise move would be to design and develop the prototype to support your overall business goals.
Aligning The Prototype to Your Business Goals
Often product organizations propose prototyping with a passion to "have it all." However, this is the first and foremost mistake of all!
The prototype is anticipated to showcase technical feasibility, looking smooth & easy, over the top – come out loaded with all functionalities and business-boosting qualities. Honestly, this is an unrealistic target because of factors like timelines and budget. Besides, we can say some do not need a prototype from our experience, and it is based on what they're trying to accomplish.
Find below the essential tips and tricks to optimize a Product Prototype to achieve your business purposes while using resources adequately.
Distinguish Your Audience
Recognize who your prototype will be given to or experimented with. Is it a business audience, a technical audience like engineers. or an end-user? Get a good understanding of the context of what your audience is looking for and what they value. Imagine the essential point to whether they are well-versed and if they may have a hard time visualizing the product. Suppose your team believes your audience may have a hard time imagining what the end product will look like. You will need to compromise on some prototype elements for their value to resonate with all key stakeholders.
Recognize the Anticipated Outcome of the Prototype
After recognizing why you're prototyping and for who, consider what your perfect outcome is once you've got this prototype ready.
What do you want it to achieve? Is it proof that you can build the product? Is your team believe the prototype will help get the required funding for continued development? Or whether you are trying to validate a new concept?
Transparency on what you're expecting to accomplish with your prototype when it's complete can help outline what it is you want to portray within it.
Be Specific On Your Business Goal
Consider your goals with this prototype and how you want to compose it to accomplish that purpose based on your audience and desired outcome. Generally, try illustrating plenty of the product to display the value of its high-level functionality within your prototype. It could go around critical factors such as technical feasibility demonstration, a list of features, or pitching the services.
Whatever it is, your team needs to build a story about the value the product could offer all these different hospital stakeholders (users of the development and hospital management).
Classify Prototype Priorities
After identifying the audience, use the collective information to decide what is most important to include and prioritize within your prototype because, in many instances, budget or time doesn't allow for a prototype to "have it all." However, a good product prototype should go by the below-said principles.
3 Components of a Product Prototype
Functionality
Durability
Beauty
Conclusion
It is not easy to get your product team aligned on which type of prototype is most suitable and most competent to meet your business objectives. However, using the guidelines mentioned earlier, your team will have a much clearer roadmap to success. If you wish to dive deep into this or need a talk to understand better, feel free to get in touch with us.