Top 9 Incredible Ways to Superboost Marketing in Medical Practices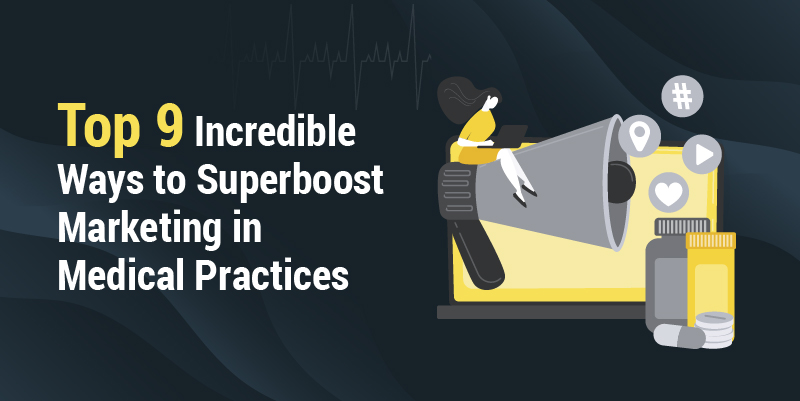 Before the COVID19 pandemic outbreak, marketing and strategies stuck to the traditional ways, but now it is time to reinvent the wheel. New marketing techniques automatically support the growth of operations in a much challenging world. The COVID19 has forced almost half of the patients to skip or postpone an appointment or treatment in the past two years, according to a survey.
At a time when hospitals and other facilities are considered no more safe to step in, it is the challenge of the medical marketers to bring them back to the facilities or virtually for treatment by ensuring safety from the virus. You have to win back your patients by infusing confidence!
a) Send Out Emails
Sending emails to your patients tops the marketing practice to get in touch with them. Write to them about the safety measures taken in your facility or about online appointments that can keep them at bay from physically walking into your facility. Enlighten them of the developments to bring them back. There are various messaging types and target groups where email can be powerful and rewarding.
Primarily, make use of your website and email database to send notifications to patients or their family members. Next, analyze your communication points. For example,
you can talk about safety measures, new services such as new visiting hours, etc. Lastly, target your high-risk groups and also remember to cover the demographics.
Email is an effective means of communication with the patients as it enables you to connect in minutes versus the hours it would take to call each one of them.
b) Send out appointment notifications
Any person welcomes a gentle reminder on their appointment. It ensures that the person makes it to the appointment without fail and on time. A variety of sources can come in handy to send out reminders such as text, phone calls, or email. It is the best way to enable the patients to confirm, cancel, reschedule or get in touch with the right persons if there is a concern. Are you aware of the fact that those appointment reminders can assist reduce your no-show rate by up to 40%? Yup, you get a chance to diminish the no-show numbers!
c) Patient Newsletter – The best way to stay connected
Newsletters provide the adequate information needed to stay updated and connected. A quarterly or bi-monthly newsletter helps take the one step closer to establishing a long-lasting connection. A well-designed newsletter with the right content can keep them captivated as it spills the beans on the developments—leverage on the newsletter poweress to build a sense of confidence in coming to your place.
Lastly, it is essential to take their consent to receive newsletters. Moreover, use proven services and technologies to ensure the newsletters reach your patient's inbox hassle-free.
d) Launch a Patient Resource Page
When everything goes as planned, patients will return to your website and ransack it for more information. Prepare yourself to provide them what they come in searching for, and it can be advantageous to generate resources that will appeal to both.
Work on informative blogs that provide tips on how to stay healthy. Webinars and videos are the latest and most sought-after mediums that take to a whole new level of interaction with potential and existing patients.
A resource page for patients is also an outstanding idea to inform them of any changes with policies, practice hours, options for after-hours emergency care, and appointment setting.
e) FB Page for Patients – Use it effectively
Patients can be easily gotten in touch through social media channels – Facebook tops the list in the US. New COVID confinement data state about 64% of the crowd is hooked on to this platform. Linking them to your resource page is the key to your grand success. Use it effectively and stay benefitted.
f) Leverage Instagram
The fastest-growing mainstream social media channel at present in the world is Instagram. While the approach should differ from that of FB, you have to vouch on photos, videos, and stories. Create through Instagram stories short videos of safety measures and tips and tricks but remember to keep it HIPAA Compliant. Many of your clients are going to love it and engagement is likely to triple if it works in your favor.
g) Videos for Patients
Many of us love watching insightful videos on Youtube and other channels rather than going through pages of content that are hard to disseminate. At present, patients accept videos from various sources – Zoom recordings, iPhones, and other tools. Some of the ideas that can work wonders are to show your facility, staff interview, success stories (patient testimonials), health tips related to your practice and specialty.
h) Medical Blogging
A few medical experts are also expert writers, and it is a natural flare that should be appreciated and made proper use of. As the name suggests, medical blogging requires insights on healthy living, the latest medical updates, staff and facility outstanding performance details, and other vital information that your readers might find interesting to read. An expert's writing sells like hot cupcakes in the market, and when it melts down to medical writing, it is valued like gold.
i) Paid Search – PPC
It is difficult to rank on top in the competitive world and win appointments for your medical service. The reason could be anything ranging from the size of your city and the services offered in your place. To overtake your competitors, it is logical to use the PPC, local ads on Google, Microsoft or Facebook. Our experts can provide the required service based on your needs and it requires people well-versed in to work on it.
Conclusion
Feel free to get in touch with us if you wish to dive deep into this or need a talk to understand better. One of the methods must best work to boost the results.