How IoT is Empowering Remote Patient Monitoring In The US Healthcare?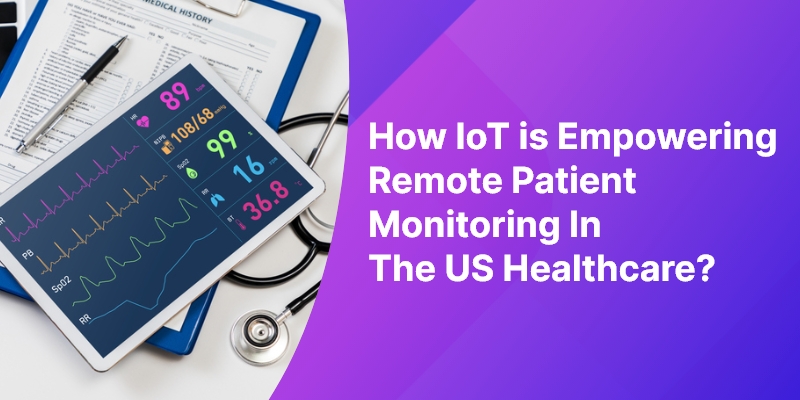 Healthcare in the US has come a long way; a decade ago, healthcare systems were nothing like their successors today as connectivity plays a pivotal role. The technology is anticipated to grow in the coming years on a more prominent part, and also, the evolution of these systems seems inevitable. Smartphones have transformed the way Doctors, Hospitals, and Patients connect. 68% of surveyed patients received timely assistance through smartphones – according to research done by a local body. Everything has become interconnected today, and thanks to IoT. In this blog post, we uncover the facts on how IoT is empowering Remote Patient Monitoring in US healthcare.
Internet of Things (IoT) – What is it
The Internet of Things (IoT) is the face of the new connected world. Every industry across the globe has begun to harness it, ranging from Agriculture to Healthcare. Its market is growing remarkably and expects an investment of $5+ trillion by the end of 2021.
The Internet of Things (IoT) is a network of interconnected devices. These devices communicate to perform numerous things using the internet, such as transferring data and collecting it. As a result, several key processes run on their own at the set time and bounce back when anomalies are noticed.
The growth of IoT in US healthcare can be attributed to the following reasons:
Internet
Sensors accessibility and affordability
Cloud Technology
Rapid strides made in the fields of Machine Learning and Artificial Intelligence
Remote Patient Monitoring in healthcare has witnessed a significant transformation because of the IoT-enabled devices. Patients are safe and can be kept under 24/7 watch because of the gadgets that are interconnected. PMC's research report stated that the Medical Internet of Things (MIoT) is key to the future of "precision medicine."
What are the Important Elements of IoT
In a Healthcare IoT ecosystem, several functionalities become operational due to multiple elements. These fundamental elements remain the cornerstone of the ecosystem. They are
Cloud
Network
Hardware
Software
Let us explore one-by-one:
1. Cloud
In general, IoT requires higher storage space, and when it melts down to healthcare IoT, the requirement is enormous. Cloud is the best option out there as conventional methods cannot suffice the need. Cloud is a fantastic platform for collecting data in real-time, processing it, and saving it for future reference. It is scalable and flexible as data is not stored in one particular location alone.
2. Hardware
Physical "things" that power up/connect the healthcare Internet of Things are referred to as hardware—sensors and mobile devices top the list. A few companies also develop specific hardware devices for IoT.
3. Software
Healthcare software solutions enable companies to manage all the IoT devices in a system. Speed of implementation is its best attribute, it is responsible for device integration, data collection, communication stability, etc.
4. Network
The network is the connection between all the devices and components of the IoT system. The connection/network enables data exchange between devices. It also simplifies the working of the IoT system.
How IoT is Empowering Remote Patient Monitoring In The US Healthcare
Care delivery and outcomes have improved a lot since the advent of IoT patient monitoring. But, how does it work efficiently? Here are the key takeaways of remote patient monitoring:
1. Convenience
The first and foremost of all is the convenience of instant communication infrastructure provided by remote care. Basically, it helps reduce the doctor-patient facetime bypassing in-person appointments through the automated system of scheduling.
2. Early Intervention
To avoid life or death situations, early intervention is the best approach for practitioners. IoT healthcare can help by monitoring patients wherever they are to steer clear from time-critical medical events.
3. Accuracy
Accuracy is the subset of healthcare IoT. The well-connected devices and alerts on the same GPS network provide the prospect of early intervention for flagged patient conditions and the ability for relief teams to respond faster and with more clarity in emergencies — especially useful for patients who live in distant places from the medical facility or doctors clinic.
4. Security
Remote patient monitoring offers improved physical safety and provides better tools for data security, sophisticated network protection guarantees to access patient health information.
Wrapping Up
Competent healthcare mobile applications are in high demand in US healthcare. Remote patient monitoring is rising in popularity with IoT applications. Even though some of the questions arise on security, inconsistencies, etc., they are well attended to now. IoT app development is now an integral part of mobile app development.
If you want to learn more about IoT Healthcare and remote patient monitoring, we invite you to contact us here to schedule a free 30 Mins consultation with one of our remote care specialists.