How HealthCare Mobile Apps are Leveraging The Power of the Internet of Things (IoT)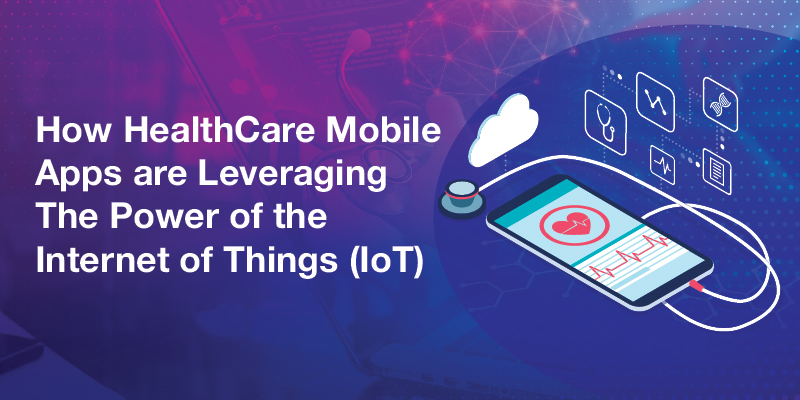 Of late, the Internet of Things (IoT) has gained prominence in various sectors, which includes healthcare too. Besides smart homes, it has become a sensational concept in other industries and is considered one of the top 7 technological advancement trends in 2021.
According to CRS REPORTS, a leading market research firm, the predictions indicate that the number of active IoT devices will increase from 9.9 billion in 2019 to 21.5 billion in 2025. While non-IoT device connections will also continue to grow, IoT devices will be about 2/3 of those connections by 2025, up from about 1/3 in 2019. This post covers how mobile healthcare apps leverage the power of the internet of things (IoT) in 2021.
Internet of Things (IoT) – Understanding Its Concept
The Internet of Things (IoT) is a network of interrelated physical devices that exchange information without human interventions. A unique IP address exchanges information according to specific predetermined rules, which minimizes the human-to-machine interactions. IoT is present in smart factories, smart home devices, wearable fitness trackers, medical monitoring devices, vehicular telematics, and smart city infrastructures. It is rapidly growing, and healthcare is capitalizing on its benefits too.
Why Bet On Mobile Apps To Leverage IoT Solutions?
The best tool that is used to harness IoT solutions' benefits accurately is the mobile phone. There are currently over 275.66 million smartphone users in the US, according to Statista, and the predictions indicate that smartphone users will grow considerably in the years to come. On the other hand, obtaining IoT solutions through mobile apps is relevant because it is economical. Compared to web apps, it provides a more feasible and reliable platform for sharing information both ways.
How are Mobile Healthcare Apps Leveraging the IoT?
Smartphones have become an integral part of our lives as it directs many formidable actions by interlinking many gadgets and exchanging data. Healthcare mobile apps are leveraging the Internet of Things, and nature by which it is leveraging is discussed below.
Healthcare Mobile Apps
In recent years, home-based medical devices are becoming more and more popular. It is because of leveraging IoT application development's power. Sensors implanted in the medical devices gather health data and transfer it to the mobile app. Such information is of great use to help treat the patients hassle-free and support a lot in emergencies.
Therefore, the need to visit a doctor for minor concerns is reduced to a greater extent. Some IoT solutions that are based on health care include monitoring clinical conditions, managing chronic diseases, assisted living, preventive maintenance, and wellness monitoring. IoT is managing and controlling many issues even before it poses a serious challenge
Hire IoT Mobile App Experts From One Of The Best IoT App Development Company
If you are planning to hire a dedicated IoT mobile app development resource or outsource to an IoT app development company…
HealthTechWiz is an award-winning mobile app development company that can approach your challenges in the way you want them to be addressed. Besides that, if you wish to remove manual operations, acting as an impediment to your professional growth, recognize your ideas into reliable web and mobile software solutions. Take the first step to launch your project by filling the form!