Top 7 Technological Advancement Trends For Healthcare In 2021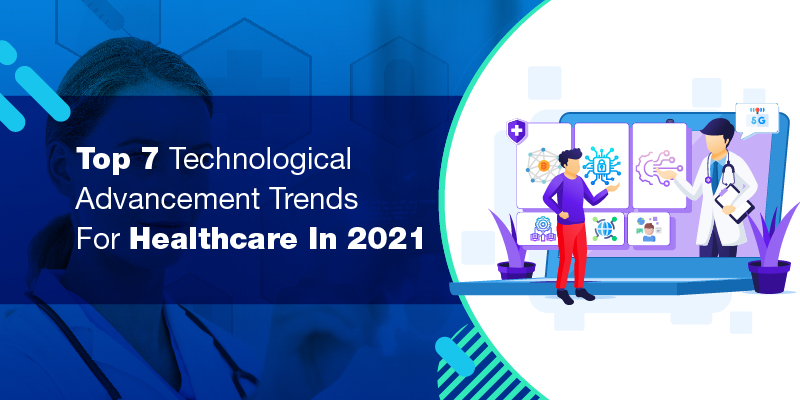 Recently, we see a considerable rise in demand for cross-platform solutions in the healthcare sector. The reason is that it offers businesses affordable mobile app development along with interesting features which are not present in native app development. The custom-built features make it a better solution for a range of domains – including Healthcare.
This blog post is about the top 7 emerging technologies that are anticipated to trend in 2021. We have collated the latest technology trends; you don't have to be tech-savvy to understand the technology trends. Just read on to stay updated…
Blockchain
Blockchain technology is best known for its safety aspects, wherein it illustrates impenetrable regularity to change, hack, or cheat the system. Digital transactions are carried out on highly-secured lines; hence it is greatly appreciated. Blockchain provides an adequate layer of security that you do not require any third-party securities to validate transactions. Many advancements have been made, and a lot more is expected to roll out this year. Blockchain has gained traction as a tool that could help solve some of the healthcare industry's age-old problems in 2021.
Cyber Security
The Healthcare industry in the US is posed with a series of security threats that need to be thwarted efficiently. Data breaches cost the healthcare industry approximately $6.6 billion last year. Cyber Security is likely to develop many Healthcare solutions to bolster security, mitigate risks, and steer clear from hacker attacks. Besides Healthcare, every industry's online organization or business needs to stay safe from online perils. Therefore, Cyber Security technology is likely to grow more prominent in 2021.
Artificial Intelligence (AI)
Of late, Artificial Intelligence (AI) is man's best friend because it replicates human intelligence to serve good for the betterment; it is bringing a paradigm shift to Healthcare. Many complex data analyzing tasks have been made accessible and straightforward. A major accessibility booster in all fields from Agriculture to Space Science – AI is likely to come out more strong to provide deep insights for healthcare providers to flourish and grow in 2021.
Machine Learning
Machine Learning is the central part of AI; however, it has created a buzz in the global market. It is deployed in all industries today and includes Healthcare too. Machine Learning is anticipated to grow to $8.81 billion by 2022 in the market. Machine Learning powers Data Analytics, Data Mining, and Pattern Recognition. Therefore, wait and see how it will shape up to support the healthcare industry this year.
IoT (Internet of Things)
Technology has evolved to greater extents, and numerous devices can be operated and controlled from another side of the globe with just a click of a button. The Internet of things has enabled healthcare professionals to be more watchful and connect with the patients proactively. Data collected from IoT devices can help physicians identify patients' best treatment processes and reach the expected outcomes. In 2021, it is anticipated to support more and help healthcare officials get more productive in offering their services for saving lives.
Virtual Reality & Augmented Reality
Virtual Reality (VR) and Augmented reality (AR) are redefining what's possible in the Healthcare and other sectors; with 5G, it is set to enhance more benefits. It will help surgeons plan their interventions, making them prepared for any situation during any time of the day. It has been noticed that more life sciences companies are using (AR) to bring new therapies to life by combining virtual and physical worlds. With this said, it is evident the technology will grow enormously in 2021.
5G Network
Communication enhancement is considered a boon to humanity. With 5G technology set to take on the market, we can't wait to see a significant improvement in connectivity, IoT, and a new health ecosystem. 2021 will uncover the myths surrounding the technology and its benefits. Wearable devices, secure online consultations, and remote procedures like robotic surgery are expected to grow.
Wrapping Up
Increasing access to Healthcare and improving hospital operations is remarkable; however, how precisely are innovators achieving this feat? 2021 holds the answers. Healthcare technology companies have given the long-awaited jolt of efficiency by tailoring experiences to the industry's individuals. Industry heads and innovators understand that there's no one-size-fits-all approach to proper care, so customization is critical.
Healthtech has a whole chunk of issues that need to be addressed, such as growing costs, unacceptable wait times, inefficiencies in drug development, etc. Healthcare technology providers are focused on eradicating the setbacks through modernization; it is for the healthcare industry to embrace the betterments. For more insights to grow with the trend, we welcome you for a free discussion with our experts, get-in-touch with them now!